Bringing rants back old-school epistolary style!
+++++++
Dear Geeky Gods Above:
I am doing everything in my power to make sure my boys grow up to be good little geeks. Please see to it that they use the gifts I have bestowed on them for good not evil.
Your Ever-Hacking Devotee,
The Bitchin' Mama
++++++
Dear Traveling Husband:
I know that you were nervous about the trains not running on time (and you had every right, considering the recent weather related delays and cancellations), however I will have to insist that the next time you need a ride to the bus station at 5:30 am YOU MUST PAY FOR A TAXI OR CAR SERVICE. As much as I loved seeing off my beloved to a week-long trip of Christmas cheer in the USA, I did not love the mayhem that ensued shortly after I dropped you off. The hysteria that I endured from the three children (recently shuffled out of bed), that all suddenly needed to use the bathroom, get a drink and were starving, was not very pretty.
Your Devoted Under-Caffeinated Wife,
The Bitchin' Wife
+++++++
Dear Heat Pump,
I understand that it is a safety measure that makes you randomly shut off, but I wish that there was an accompanying audio alert with your red-glowing light, as I am tired of not knowing that you've stopped working until after I've slowly frozen for several hours or need to take a shower and find that there isn't any hot water left.
Grumbling While Adding Layers,
The Bitchin' House Dweller
++++++
Dear Fox In My Garden:
Please come back. I want the rest of the kids to see you! But after they see you, could you just slink back off into the forest again? We're not looking for a pet or anything....
Always Looking,
The Bitchin' Backyard Naturalist
++++++
Dear Play Director,
I appreciate that you'd like to give me an opportunity to practice my big song and pole-dancing number for the first time NOT in front of the entire cast, on stage. But when you say "Amy, I think we should have a private pole dancing session before you do it here." ..... Well.... It just sounds kind of like something else is going on. Maybe we could work on the delivery?
Not As Salaciously As One Might Hope,
The Bitchin' Prude
+++++++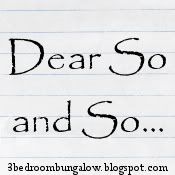 This is my first time participating in Kat's clever meme. Thanks, compatriot!!