Dear Grumpy Old Man Standing By the Hedgerow,
I can sense from your subtle glares and the way you are lurking about clutching your cup of coffee with white knuckled ferocity that you disapprove of my using your neighbor's driveway to turn around. I appreciate your tenacity in remaining outdoors, in the cold and damp weather, to watch in silence while I unbuckle my toddler and slowly convince him that leaving his two Matchbox cars in his seat is a much better idea than bringing them into preschool. I'm sure that it was only boredom and disgust that finally prompted you to give up your mission to verbally accost me with the road rules of English hamlet turnabouts, but no matter what it was, I thank you for not being there when I finally looked up from my toddler extrication maneuvers.
Sincerely,
The Bitchin' Wife
++++++++++++
Dear Children of My Loins,
I am on to you. Each and every one of you.
Always Watching,
Your Bitchin' Mom
++++++++++++
Dear Hackers of the Interwebz,
I am no longer able to resist the siren song of your promised rule-bending via ISOs and downloaded bits of code! I have tried to walk the straight and narrow. I have honestly put my best efforts into only downloading or streaming through legitimate sources and by paying my fair share. However, in the face of moving overseas to a country that uses a different kind of tv (PAL vs NTSC), different region codes for games, and that just makes it generally difficult to access all of one's favorite shows in America has prompted me to get creative.
And
you
, my dear, clever hackers, are
nothing
if not creative.
Thank you for all your thoughtful program writing, download points, tutorials, and general glee in circumventing "the man" and his petty rules.
Sincerely,
The Bitchin' Mediaphile
++++++++++
Dear Pheasant That Has Recently Moved to My Garden,
I can see that you are a lovely specimen. But every time you strut by, showing off your elegant plumage and vibrant colors, I wonder how it is possible that you could sound so much like a turkey when you open your beak.
Regretfully,
The Bitchin' Birdwatcher
And P.S. Do you think you could make yourself useful and eat some of those slugs that are currently marauding my garden? Thanks, dearie.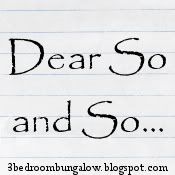 This is my first time participating in Kat's clever meme. Thanks, compatriot!!